Saving Lives, One Course at a Time
Established in 1998, Crested Butte Outdoors provides Wilderness Medicine, Wilderness First Responder, and avalanche courses for all experience levels.
Learn to think critically during emergencies in unconventional settings & give your staff the skills & confidence to manage the unpredictable.
Sign up now for a public or custom course at your location or ours. Susan's essay has appeared in the New York Times.
Crested Butte Outdoors is based in Whitefish, Montana 30 minutes from Glacier National Park. COVID-19 Update. CBO is offering fall course, private public. CBO operates as an instructor-sponsor of Wilderness Medical Associates. We are seasoned practitioners and expert instructors. We are also patrollers, mountaineers, sailors, skiers, hikers, and above all, your colleagues in the field. CBO offers practical, hands-on field-based learning.
Wilderness Medicine:  Twenty-two years of teaching hundreds of courses around the world, Crested Butte Outdoors is known for its positive, life-changing effects on students and organizations. CBO stands behinds its ability to empower students. We provide an safe environment for individuals to grow, learn to trust, develop leadership and communication skills and problem solve.
Avalanche Courses: Crested Butte Outdoors teaches American Institute for Avalanche Research and Education (AIARE) Level 1 and Level 2 Recreational Avalanche courses through THE MOUNTAIN GUIDES–MONTANA. We believe in field base learning and our courses are held at a backcountry yurt run by Great Northern Powder Guides Cat Ski operation, 20 miles north of Whitefish, Montana. We offer mountain decision making and rescue skills, speciality training with avalanche dogs and search dogs.
Adventure, Teamwork, Leadership:  Ready for an outdoor adventure? Here are a few of the questions we will address: How do you show up as a leader? Who is in charge? Have I carefully selected and reviewed my group and group goals. What if one of our team member has a medical emergency? How will I survive the night?  How do I prevent hypothermia? What do I carry, how do I prepare? Take one of our courses and soon you'll stand confident in your decision-making skills. Our courses offer you a chance to gain experience and take control of your trip, your life, or situation.

Missing connection with your book buddies. Join us outdoors for reading and a social distancing gathering in Bigfork, MT. #writerscommunity #authorsofinstagram #Authors #memoir #gofind #writershelpingwriters https://t.co/XPgV8scxCp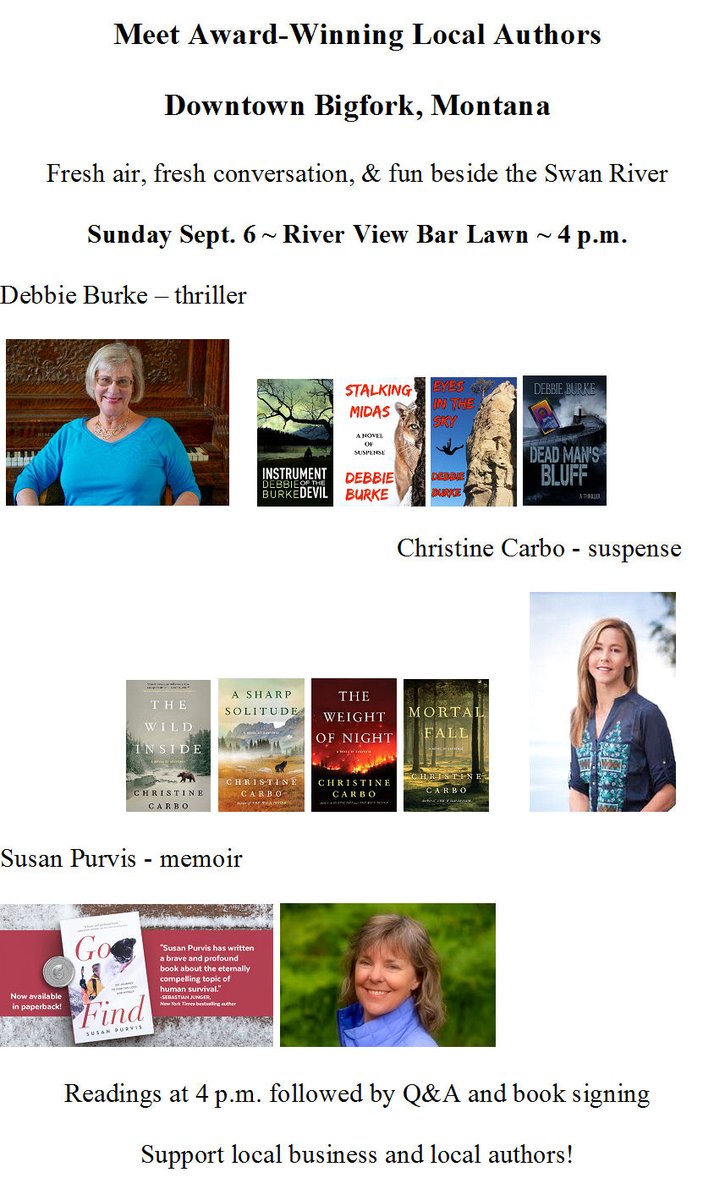 CBO Expedition Medicine Antarctica
Avalanche - Search Dogs Saving Lives
The Explorers Club - Rocky Mountain Chapter Meets The Explorers
Susan Works as Wilderness Medicine Specialist in Antarctica